miracle box driver setup 32 bit 64 bit download
Do you want to use miracle box? But, don't know how to miracle box driver setup. However, don't worry. Today, I will share latest miracle box USB serial driver and setup. That will suits with all operating system of windows like Windows XP, 7, 8, and 10. Also, it goes with both 32 bits and 64 bits.
Miracle box is a popular and best unblock tool for china mobiles. Though, it has been designed for Chinese mobile specially, but supports both China mobile and android mobile. This awesome tool able to restore, unblock, repair, and flash mobile phone.
miracle box driver setup 32 bit 64 bit download
miracle box driver Easy 32/64bit setup just 1Click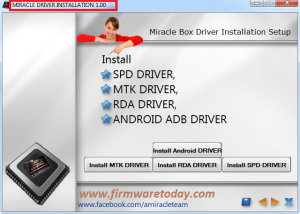 Update miracle box drive all in one
Download Link Now Just 1Click
Firmware Download…Link
Download 32/64bit all in one Download 32/64bit all in one
Download the only 32bit Download the only 32bit
Before downloading miracle box driver setup, you have to check the windows operating that you are using. It supports both 32 bit and 64 bit of windows vista, windows XP, windows 6 XP, windows 7, windows 8, windows 8.1 and windows 10. Download miracle box driver from This Link. Remember that, you should download miracle driver and install it first. Then, you should download miracle box.
Tips for miracle box driver setup and use
You need to download miracle box driver from the above link then then install it. After then, download miracle box and install it also. But your computer may show you an error. In that case, you need to turn off anti-virus that you are using on your computer.
Then, restart the computer so that your PC can activate application and driver that you have installed. Now, your system is ready to flash mobiles.
You should keep back up with your mobile data which you are going to flash because flashing removes all your mobile data. So, taking a backup is an excellent idea for further use the data.
Make sure that your mobile phone is turned off before connecting to the computer. Then, connect the phone the computer.
Turn on your mobile phone. You will get a message that the phone is connected with the application. Now, you can flash the mobile.
How to use miracle box?
Download the miracle box software from the link above. Then, install in your computer.
Launch miracle box software. Click on "MTK".
Select "Write", then, you need to select "Format all [Android]"
Now, you need to select stock firmware/Rom where it is saved. So, select "folder-like button".
Then click on "Start Button". Connect the device that have only "power" key or "Volume + and Volume".
After connected the device, click on"Ok" and wait the process complete.
Why should use miracle box?
Able to repair almost all android phones along with china mobile phones.
Just need to press update button to update the software.
It has a large CPU data library.
Also, supports almost all new generation mobile phones.
It comes with auto detection feature.
You can miracle box driver setup according to above instruction. It not only let you flash only latest Chinese mobile phone, but you can flash old device also. Even, you will be able to use the tool for other mobile phone along with china mobile.