Qmobile x32 Power flash file stock firmware Rom
To work with a safe firmware flash file, here you will get the original Qmobile x32 Power flash file, download link. We add this download link after 100% tested. Including beginners, no one will find difficulties to install the file. Step by step installation processes has given below. Before install just remembers, these processes will only work for this particular model, not for all devices. Here you can find out more about oppo forgot oppo pattern lock remove tool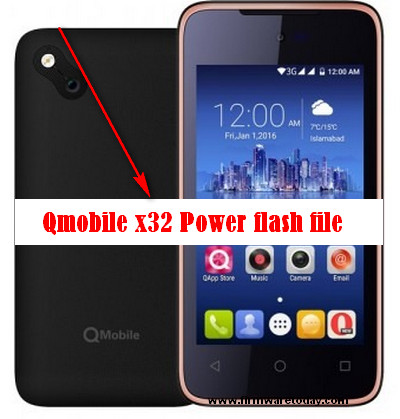 Must Read Qmobile other Quality full model software:

Download Qmobile x11 flash file

Download Qmobile x32 v2 flash file
How to Install Qmobile x32 Power flash file
Maybe you know flashing any device is not easy. Those who are doing this for the first time without other's help they would find it more difficult. So they need step by step instruction to complete the whole process perfectly. Sometimes the device might face some problems if one fails to install the software. Follow the below instructions carefully and install the flash file in an easy way-
Step 1: At first, you'll need SPD driver. Do you have already one, if no then download it now?
Install the software.
Step 2: Then download the Qmobile x32 Power Flash tool from this website or a reliable website. Henceforth, extract the file to a folder and keep it from where you can find it easily.
Step 3: Find the icon and click the Flash_tool.exe.
Step 4: You'll find this process by launching the tool on the PC. Then click on the Pac file-loading, which will appear on the tool's right side. Now, it's time to switch off your phone. Otherwise, you can remove the battery. Then replace the battery a few seconds later but don't turn on your mobile.
Step 5: Now hit the download button and connect the device to the computer with the USB cable. You will find starting the flashing process when your phone is connected. How will you understand whether the process gets started or not? Well, you can see the progress bar, which is red on your PC, and understand the system is on.
Once the phase completed, then the red bar will disappear and another bar will come. The progress bar will become purple if the second phase completed. A yellow bar will appear which indicates the download process is about to start.
It's the last phase. Soon the yellow bar will disappear and you will see a green circle with the OK message. At this situation, you can be sure about the installation happens successfully. So now you can disconnect the device from your PC. Then turn it on.
Congratulations! The process of Stock ROM firmware flash successfully completed!
However, these are the most detailed and easy steps to flash your device with Qmobile x32 Power flash file.
Qmobile x32 Power flash file stock firmware Rom
Android Version: 6.0
File Size: 1.05 Gb
Zip unlock pass: Mr.BPower
Download Qmobile x32 Power flash file
Download USB driver 32 bit 64 bit
Qmobile x32 Power flash file Installation Process
Few requirements are there, you can follow them to install the software successfully.
Keep Minimal Charge of 60% – It's very annoying when the phone stopped in the middle way of the installation. So you need to keep minimum battery charge of your device so that the process can continue perfectly. Otherwise, you may end up soft bricking your device when it goes dead during the flashing process.
Keep Backup Your Important Data – Nothing could be better than being alert. So try to be on the safe side. For this, back up each of your important data from your android phone. It ensures you still have the access to all of your data in case anything goes wrong with the device.
Also, Can Keep A Custom Recovery – It would be safe if can keep a custom recovery on the process, check TWRP or CWM when you are ahead to flash this ROM. In this case, Philz Advanced CWM recovery is advisable to take a glance. But most of the cases try to follow all the instructions mentioned on the website.
This ROM Framework Only For Qmobile x32 Power – This installation file of Qmobile x32 Power firmware flash file is only compatible with this particular model. So whether you try to install it for other models, it wouldn't work successfully. To make sure, go to Settings > About Device on your device and note your own model number. Then proceed on.
To conclude,
You should know giving a flash to your mobile is like giving your device a boost. There are definitely some benefits of Qmobile x32 Power flash file when you need to flash your device. Experts suggested not choosing a 6-7 years old model to flash. Due to in maximum cases, the flash doesn't work out. Therefore, it's 100% safe for start with. If you face any errors in a middle way, don't forget to let us know with screenshots. You will get a quick response from us.
Lava iris 510 Click here to know about Lava iris 510 firmware