WIKO BLOOM OFFICIAL FIRMWARE WITHOUT PASS UPDATE 4.4.2 (MT6582) 2000% TESTED BY FIRMWARETODAY.COM
MT6582__WIKO__BLOOM__wiko__4.4.2__ALPS.KK1.MP1.V2.10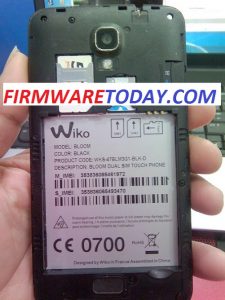 Brand : WIKO
ProdName : wiko
ProdModel : BLOOM
Device : wiko
AndroidVer: 4.4.2
MTKxCPU : MT6582
MTKxPRJ : ALPS.KK1.MP1.V2.10
[Read Ok] : preloader_wiko.bin
[Read Ok] : MBR
[Read Ok] : EBR1
[Read Ok] : lk.bin
[Read Ok] : boot.img
[Read Ok] : recovery.img
[Read Ok] : secro.img
[Read Ok] : logo.bin
[Read Ok] : system.img
[Read Ok] : cache.img
[Read Ok] : userdata.img
[ScatCFG] : MT6582 / V1.1.1 / wiko / EMMC
FW Size : 932 MiB
Welcome to Gsm Friends Thanks To
Choice my Website FirmwareToday.com
This Website vary smart & Fast  Latest Update
So No  Others Way hurry up Download
Thia firmware 100% Free Without Password !!!
Contact to Admin
QQ ID-firmwaretoday@qq.com
QQ ID-2460078240
Yahoo id: firmwaretoday@yahoo.com
Skype id: sajib.telecom2
Live Call +880 01828192803
PASSWORD: FIRMWARETODAY.COM@3334
How  to use Flash file/firmware
1 Step: Download My Firmware  WIKO BLOOM  firmware & unzipThis Firmware.
2 Step: Download Smartphone Sp flash tool Latest version from Firmwaretoday.com
3 Step: Download Usb Driver Download & Setup This Require Android Usb Vcom Driver.
4 Step:Open Smartphone Sp flash tool & Load Your Targeted Scatter firmware.
5 Step: Select MTk scatter Document file &  Click.
6 Step: Press Download/Upgrade Button.
7 Step: Power Off your Phone Press Volume – Or+ and Insert usb Cable.
8 Step: All Step Correct Use/flash Running & wait 2-5 Minute flash Done.
9 Step: flash Done/Open Download Green Signal.
10 Step: Unplug your Phone & reconnect Your Battery.
11 Step: Press Power Key/Button.
12 Step: Flash Done.