Download Mi Flash Tool Xiaomi all version
For any technological advancement, updating is a must. So, download Mi flash tool to upgrade or degrade any Xiaomi devices. It helps to flash the firmware and customize it according to your need. The user can restore any bricked Mi device by using the Fastboot technique. Here, I will discuss the core features of the flashing tool, and how to install it. Also, I will give am elaborated explanation on how to use it.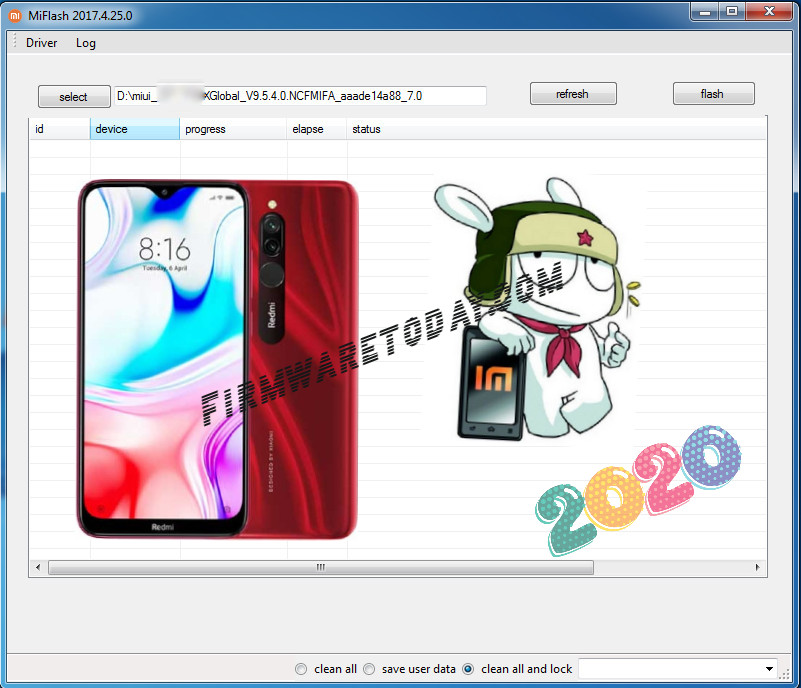 You can also like read more other's service
Details & mirror link→ Mad mi account bypass tool
Details & mirror link→ Octopus crack tool
What are the prerequisites before you download Mi Flash Tool?
Some prerequisites before you download Mi flash tool Xiaomi 64/32bit. It is a vital part of the whole procedure.
Uninstall any older version of Mi flash tool, if you are installing a new one.
It does not support any device that came before

Xiaomi

Mi 3.
The tool supports both 32bit and 64bit. Also, you can only work with this on Windows 7/8/10.
You need to

unlock

the Bootloader to flash any device.
It does not support any devices other than the ones with

Qualcomm chipset

.
Why do you need to download Mi Flash tool ?
You may love to tinker the device settings to get the best facilities from your smartphone. While doing this, you may face problems. Flashing helps to get rid of this issues. There are few reasons why you need to download Mi flash tool Xiaomi 64bit/32bit.
It is possible that you rooted your smartphone before. And now the only way to un-root is by using the flash tool.
You might have flashed custom recoveries. Now, you need them back.
You have installed custom ROMs. Now you want to change them, but you are unable to.
You have installed different types of MODs. Those

MODs

are not suitable for your smartphone device.
If you flash your smartphone, you will be able to delete bloatware applications.
You may have "soft-bricked" your smartphone device. For this, the device might not respond appropriately. You need to flash the smartphones. Flashing helps to update the device's firmware. You will be able to get back your phone back to its first condition. Also, you will be able to install new versions of Android.
Note: Some of you may have unlocked the Bootloader in your android device. Even if you flash, the Bootloader will not get locked. It will not make any difference.
What are the features you get after you download Mi Flash Tool?
After you download Mi flash tool Xiaomi 64bit or 32bit, you receive the following features.
1. Installer
It helps you to install the flash tool first on your computer or laptop. So, in this way you can use it for flashing.
2. In-built drivers
The instrument consists of drivers of Google ADB, Microsoft MTP, Qualcomm, and RNDIS. You do not need anything extra. All come in one single package.
3. Many flashing options
You get three options for flashing Mi devices. They include:
Clean all- It helps to

clear all

the data of your internal and external storage.
Save user data- You can install new firmware without deleting any internal data.
Clean all and lock- It deletes everything and locks your unlocked Bootloader.
How to download Mi flash tool then install it?
At first, you need to download Mi flash tool. You can get it from any various websites or their official website. Locate the downloaded item. Now, you need to extract the zipped folder. Then run the Mi Flash Setup.msi file to start the process of installation. Follow the instructions and keep on pressing next. When you click on next in the Confirm Installation window, it will begin installing. Then you have to wait for some time till it completes the whole procedure. As it finishes, press close. Now you have successfully installed the Flashing tool.
How to use the Flash tool?
After the completion of the installation procedure, you can now learn how to use the flash tool. Go through the following steps:
1. Some prerequisites
Complete these before trying to flash your Mi device.
The charge of the battery should be above 60% so that your phone will not run out of charge.
You need to backup everything. It will help if something goes wrong and you lose everything.
The "USB debugging" mode in your smartphone should be enabled. Go to settings, then to developer option. There you will find "USB

debugging

."
You must use the original data cable that comes with the device. It will help create a proper connection with your personal computer and phone.
2. Downloads and installations
Before, you downloaded Mi flash tool. And now you need to download the Stock Firmware and extract it. It is the file that you will use for flashing. Now you need to get Xiaomi USB driver and install it.
3. Fastboot Mode
To boot your Mi device to fastboot mode, you need to switch it off at first. Then, press On + Volume Down button. You will see a Mi bunny when it enters that mode.
4. Flashing
Connect your handset to the computer with the help of the cable. Open the flash tool and select and browse the extracted stock firmware file. Then press refresh. It will check whether the device is still connected to the computer or not. At the bottom, you will see the three options mentioned above. Click on the desired one and then press flash. Wait for some time for it to complete. You will see Success written under the result bar.
Final words
In the end, I would say how to download Mi flash tool is not that hard. You invested a lot of money when you bought the smartphone. There are chances that you might have disrupted the phone's setting. It could be due to using different MODs or trying to root your phone. You may face errors that are irreversible. In the end, you might start feeling that all your investment has gone down the drain. Flashing becomes handy here. You will be able to take back the phone's settings to the default version. And above, I have discussed the easiest way to flash any Mi Smartphones. It is less time-consuming, and anyone can use it without facing problems.
Easy download link Here
MiFlash_Pro_version_4.3.1106.23
MiFlash_Pro_version_4.3.1108.24
MiFlash_Pro_version_3.3.1212.88
Mi account bypass tool

Google drive → Mi Account unlock tool
Mi tool password:www.firmwaretoday.com